WHY ASKABLE ADULTS?
In a 2017 survey, Vermont's children and youth identified an array of concerns that cause them stress in their everyday lives—including drug and alcohol use; poverty; sexism and harassment; body shaming and bullying; and homophobia and transphobia.
When asked what would help, young people said that the number one solution would be more adults they can confide in their lives. Children and youth are more resilient to stress and adversity when in meaningful relationships with at least one trusting affirming adult. This is especially critical for young people working to develop a positive sense of self in a culture that often devalues them based on their identity, ability, background or status.
Equipping adults to be more askable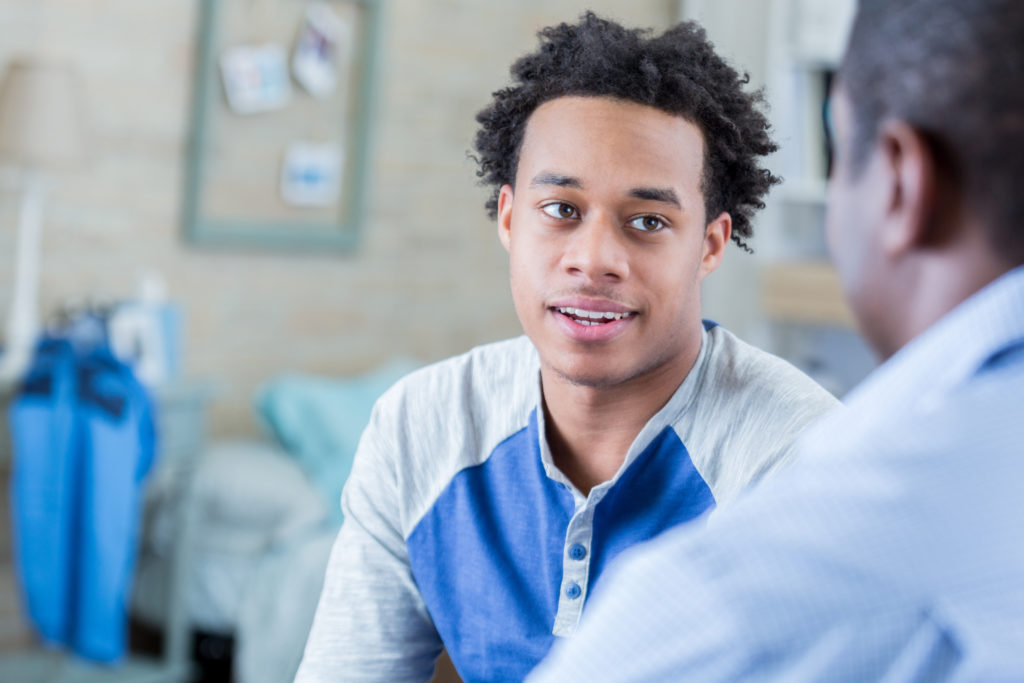 and supportive for children and youth supports healing and resiliency for all youth, including those who've experienced trauma and toxic stress.
Together, we can ensure that Vermont's youngest people have the support they need to lead healthy, confident lives!
WHAT IS AN ASKABLE ADULT? 
An askable adult is one who is approachable and easy for children and youth to talk to about anything that is on their mind.  Askable adults are committed to having strong, effective, and affirming relationships with youth using positive communication to develop trust and connectedness.
Qualities of adults who are "askable" include patience, consistency, respectfulness, honesty, kindness, attentiveness, trustworthiness, lightheartedness, open-mindedness, non-judgment, and knowledgeability.  Askable adults often have a similar racial/ethnic or sexual identity as the young person, or common background experience.
Youth want to talk to adults about their everyday lives and school and family struggles. They are eager to connect about drugs and alcohol; sexuality and gender; relationships, love and sex; abuse and divorce; college, jobs, money, cars and life skills.
THERE ARE FOUR SKILL AREAS THAT ADULTS CAN STRENGTHEN TO BECOME MORE ASKABLE FOR CHILDREN AND YOUTH IN THEIR LIVES: 
Building Trusting and Affirming Relationships
Committing to Consistent Connections
Committing to Caring Communication
Being a Curious Co-pilot and Resource
TAKE ACTION:
Make a personal commitment to:

Ask the youth in your life how you can be more askable for them
Build meaningful relationships with youth
Enhance skills that will make you a more askable adult
Get more informed about the topics that are important to the youth in your life

Share Askable Adult Campaign posts and materials
Check out our Askable Adult Skill Building Toolkit  (below)
Bring Askable Adult Campaign materials to other adults in your community by checking out Askable Adult Lesson Plan & Conversation Starters for adults (coming soon)
Subscribe to receive news and resources about the campaign and being an askable adult (below)
Tell others about this campaign! Post about your experience on social media using these hashtags:

 #askableadultvt
#askableadultcampaign
#vtnetwork
To order Askable Adult postcards and stickers, call the Network at (802) 223-1302.
Interviews produced by Vermont Network. Audio production and editing by Llu Mulvaney-Stanak: DJLlu.com
SKILL BUILDING TOOLKIT AND LESSON PLAN
In the Askable Adult Skill Building Toolkit, find tips in four skill areas that help adults become more askable for children and youth.
The Askable Adult Lesson Plan & Conversation Starter Guide is an accessible curriculum designed for any adult or youth/adult team to bring to other adults in their workplace or community. It outlines flexible lessons and informal conversation starters that increase understanding and skills for adults to become more connected and "askable" for children and youth in their lives. Below, you'll find a guide for facilitators and a guide for participants. For more information or resources, please contact Amy Torchia. 
Download the whole toolkit:
Askable Adult Lesson Plan & Conversation Starter Facilitator and Participant Guides:
Get the individual tools:
Special thanks to Llu Mulvaney-Stanak, Natanya Vanderlaan, Megan Stearns and all of the youth and adults willing to share their stories to make this project possible. This project was funded by the Vermont Department of Health through a grant from the Centers for Disease Control and Prevention's Rape Prevention and Education Program.
Audio production and editing by Llu Mulvaney Stanak: DJLlu.com
Graphic design and communications consultation from Megan Stearns: cestlavt.com and Teppi Zuppo: teppizuppo.com