SHINE: Party with a Purpose
Thank you to all who attended, sponsored, and supported SHINE this year!
We cannot wait to do it again next year! Please visit our facebook page to see photos from this event and stay tuned for a Save the Date for 2023.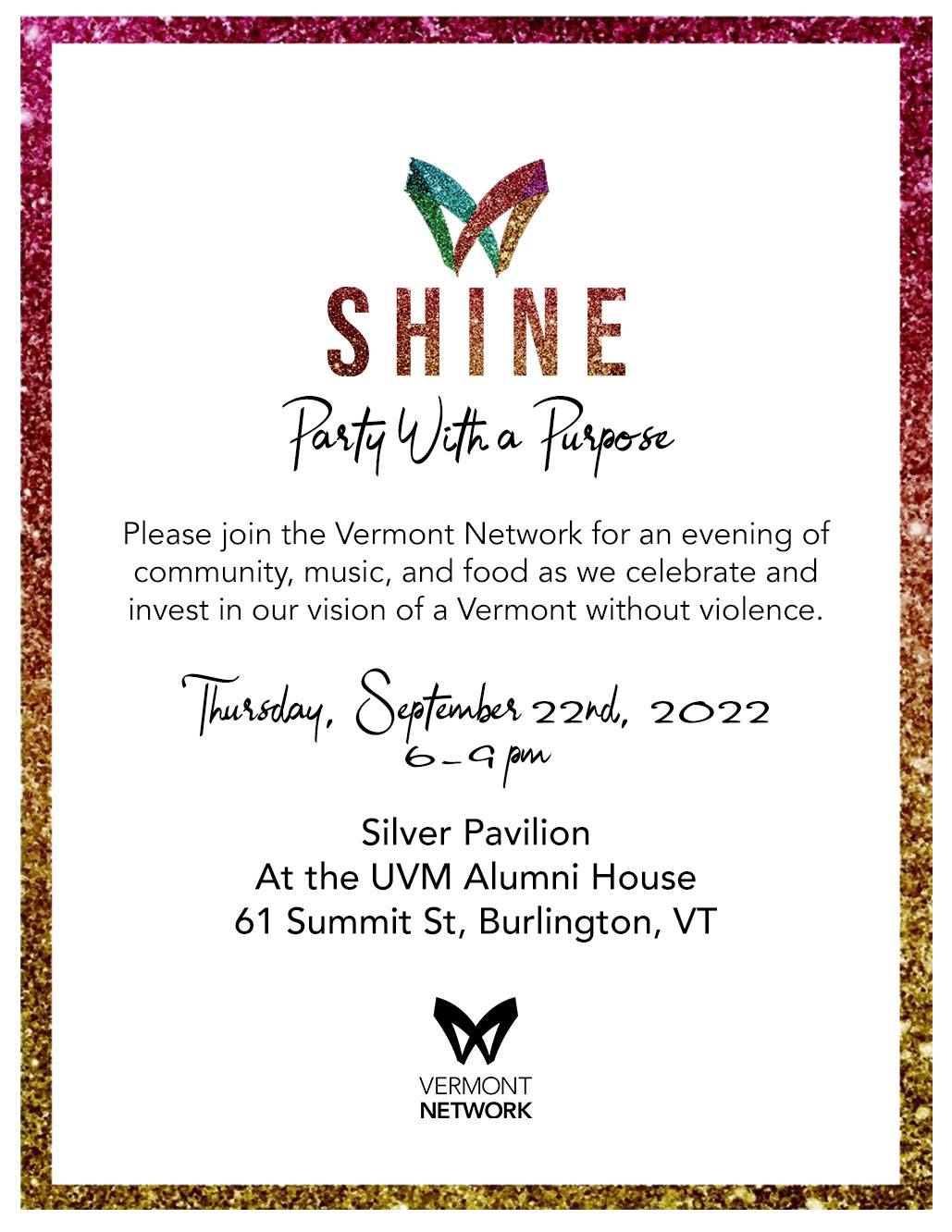 About the Event:
SHINE: Party with a Purpose is an evening of community, connection and celebration. Please invite your friends and family members to attend with you!
The Maple Street Six will be performing jazz music to accompany our evening. You can find out more about them here: The Maple Street Six | Facebook or on Instagram (@maplestreetsix)
We will begin welcoming guests at 6pm and will have a short program around 6:30 pm to celebrate and invest in the impact of the Vermont Network. As part of this program, we will be honoring Representative Maxine Grad for her 22 years of service in the Vermont Legislature and her immense efforts to make Vermont a better place for survivors of violence.
  Ticket sales are now closed. Please email jessica@vtnetwork.org for additional requests 
Additional Details:
Masks are optional but most welcome. We will have some available for you as you check in!
If you aren't feeling well, please stay at home. We encourage all guests to do a COVID test before attending and will have some tests available for people who want to test at the door.
This is an indoor/outdoor event with open doors and an accessible outdoor space, weather permitting
This event will be interpreted for ASL. If you need any additional accommodations to make the evening a success for you, please let us know by emailing jessica@vtnetwork.org
  There will be a silent auction of gift baskets filled
with local VT goodies at the event! 
Thank you to our Gift Basket Auction Sponsors:
And our generous Individual Sponsors including:
Patricia Fontaine
Mark and Marybeth Redmond
Lauren Tronsgard-Scott
Jane Van Buren and Gigi Weisman
Patrick and Amy Mooney
Tom Brock, Independent Geiger Consultant